Seafood BBQ Buffet 海鮮燒烤自助餐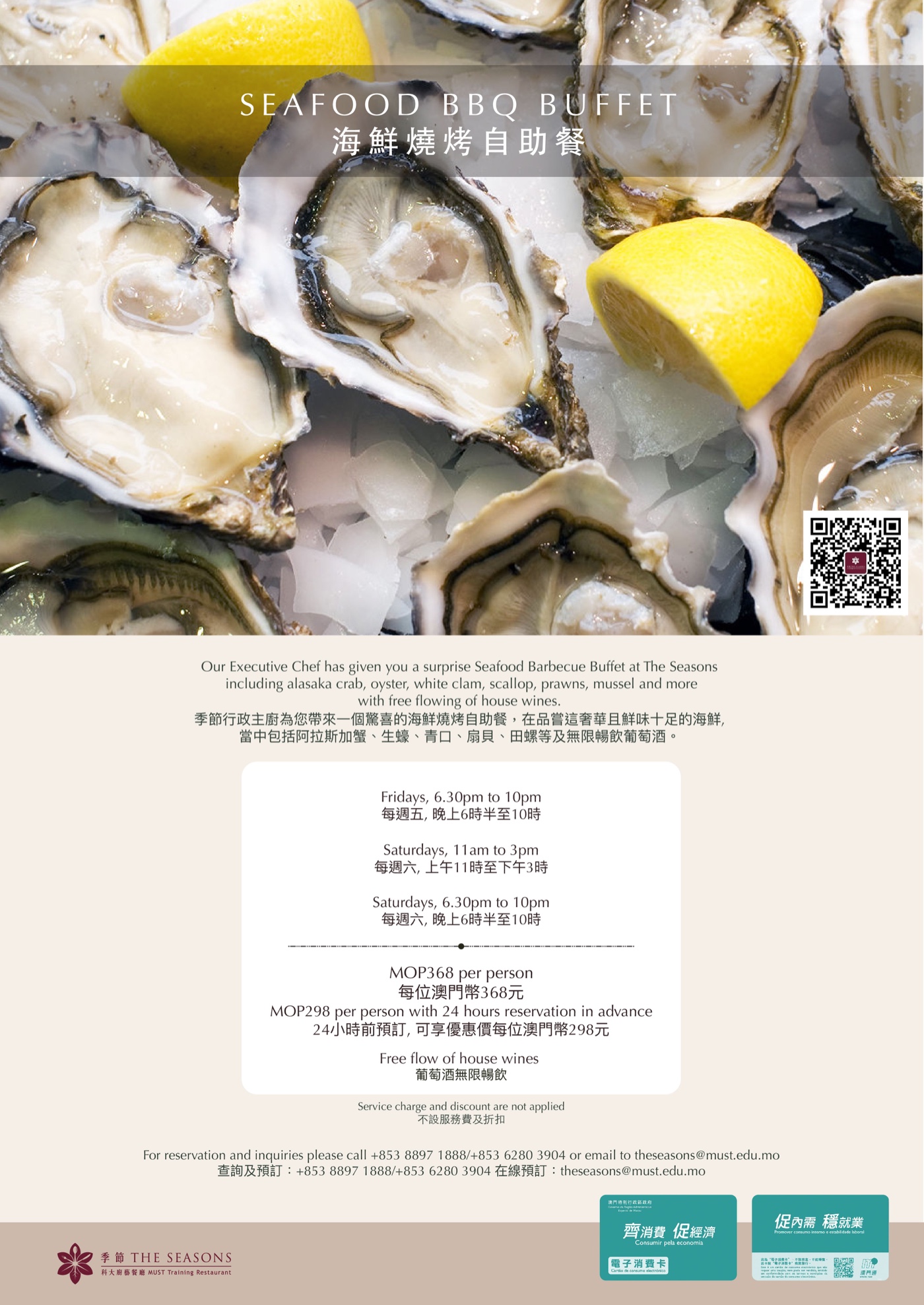 海鮮燒烤自助餐
季節將在每週五、六為您呈獻豐富又驚喜的自助餐,送上不同種類的優質海鮮,當中包括阿拉斯加蟹、生蠔、大蝦、青口、扇貝、田螺等,讓您享受與品嚐奢華而精緻的美食及無限暢飲葡萄酒!
每週五、六,晚上6時半至10時
每週六,上午11時至下午3時
每位澳門幣368元
紅白葡萄酒無限暢飲
24小時前預訂可享有每位澳門幣298元優惠
不設服務費及折扣
查詢及預訂:+853 8897 1888/+853 6280 3904在線預訂:This email address is being protected from spambots. You need JavaScript enabled to view it.
季節餐廳及咖啡閣的全線貨品 (包括堂食及自助餐) 均可接受以消費券支付。
Seafood BBQ Buffet
The Seasons will present you an extraordinary buffet on every Friday and Saturday, various types of fresh seafood are included, which having Alaska crabs, Oysters, Prawns, Mussels, Scallops, Escargots and more. Come to enjoy and taste this extravagant and refined delicacy with the free flow of house wines!
Fridays & Saturdays, 6:30 pm – 10:00 pm
Saturdays, 11:00 am – 3:00 pm
MOP 368 per person
Free flow of red and white wines
Special offer at MOP 298 per person with reservation 24 hours in advance
No service charge and discount are applied
For reservation and inquiries: please call +853 8897 1888/+853 6280 3904 or email to This email address is being protected from spambots. You need JavaScript enabled to view it.
All the items (including Dine-In and Buffet) of The Seasons and Coffer Corner could be paid by Electronic Consumption Voucher.