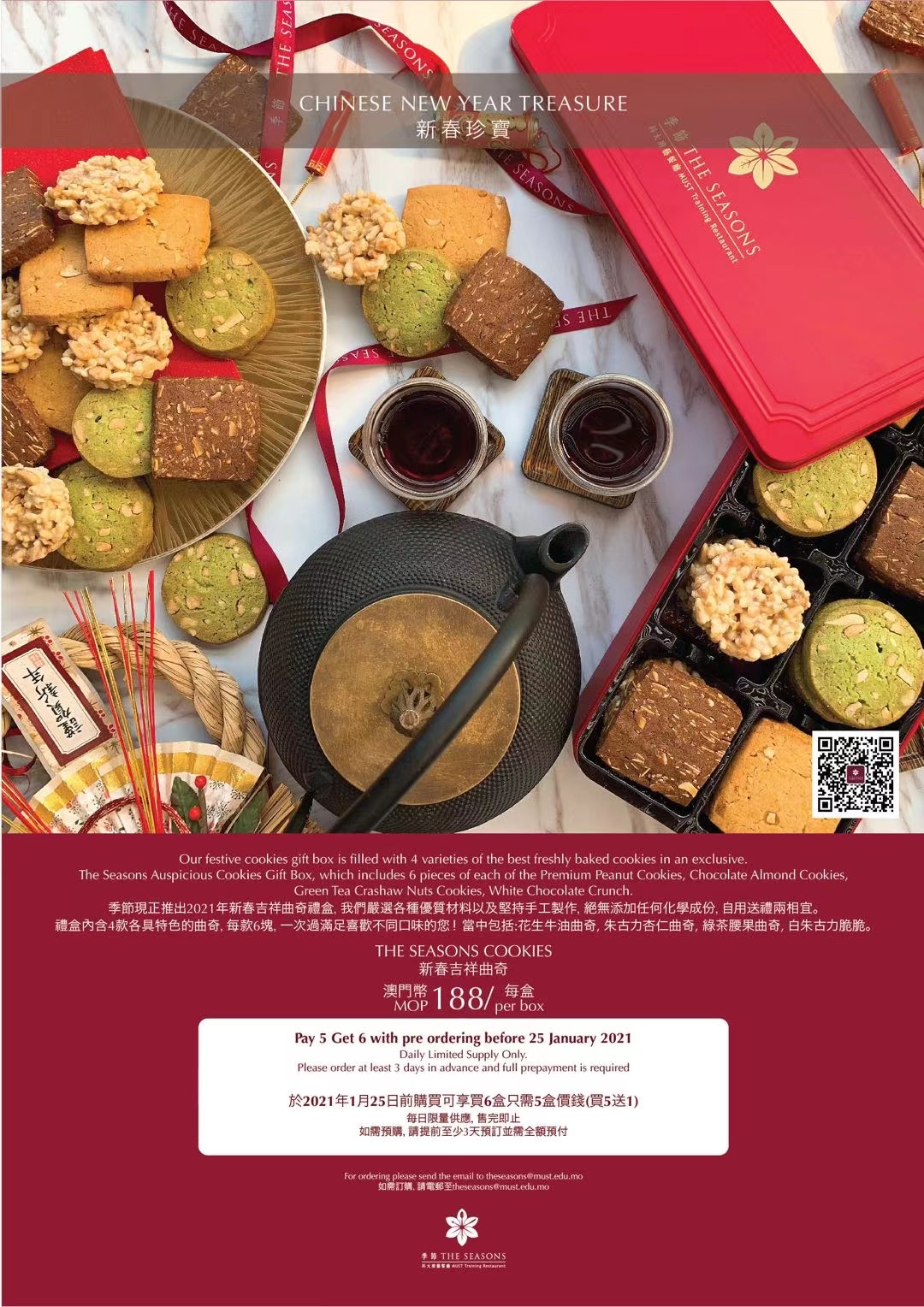 季節新春珍寶
鼠去牛來辭舊歲,龍飛鳳舞慶新春。
季節現正推出2021年新春吉祥曲奇禮盒,含4款各具特色的曲奇,當中包括:花生牛油曲奇, 朱古力杏仁曲奇, 綠茶腰果曲奇, 白朱古力脆脆,每款6塊,一次過滿足喜歡不同口味的您!
澳門幣188元/盒
*於2021年1月25日前購買可享有買6盒只需付5盒價錢 (買5送1) 優惠
限量供應,售完即止
如需預購,請提前至少3天預訂並需全額預付及電郵至This email address is being protected from spambots. You need JavaScript enabled to view it.
Chinese New Year Treasure
The Seasons is now launching the 2021 New Year Auspicious Cookies Gift Box.
The gift box contains 4 unique cookie flavors, including Peanut Butter, Chocolate Almond, Green Tea Cashew, and White Chocolate Crunchy, with 6 pieces each, for satisfying your different preferences in ONE!
MOP188/box
*Purchase before 25th January 2021 can enjoy getting 6 boxes with the price of 5 boxes (buy 5 get 1 free). Limited supply, while stocks last.
For pre-order, please send email to This email address is being protected from spambots. You need JavaScript enabled to view it. at least 3 days in advance with full pre-payment.