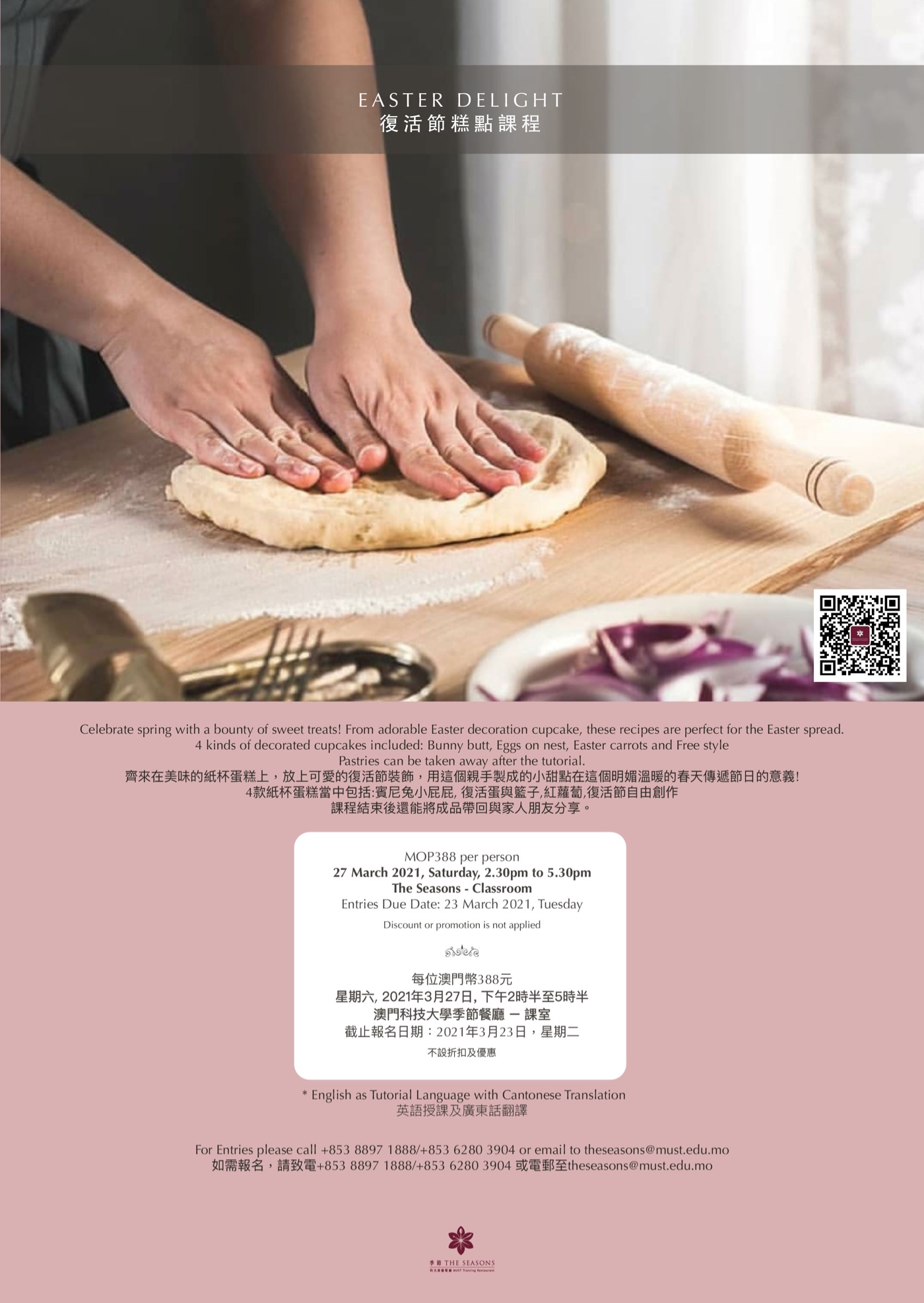 復活節糕點課程
用親手製成的小甜點在這個明媚溫暖的春天傳遞節日的意義!
課程內容:
製作4款紙杯蛋糕:賓尼兔小屁屁、復活蛋與籃子、紅蘿蔔、復活節自由創作。
課程結束後可將成品帶回與家人朋友分享。
上課日期及時間:2021年3月27日,星期六,下午2時半至5時半。
地點:澳門科技大學季節餐廳–課室
語言:英語授課(含廣東話翻譯)
截止報名日期:2021年3月23日,星期二
每位澳門幣388元
報名請致電 (853) 88971888/ 62803904 或電郵致 This email address is being protected from spambots. You need JavaScript enabled to view it.
Easter Delight
Use your hand-made sweet treats for celebrating the Easter spread in this Spring!
Course Information:
Making 4 kinds of decorated cupcakes: Bunny butt, Eggs on nest, Easter carrots and Free style. Pastries can be taken away after the tutorial.
Date and Time: 27 March 2021, Saturday, 2:30pm-5:30pm
Location: The Seasons-Classroom
Language: English tutorial (with Cantonese Translation)
Entries Due Date: 23 March 2021, Tuesday
MOP 388 per person
For Entries please call (853) 88971888/ 62803904 or email to This email address is being protected from spambots. You need JavaScript enabled to view it.